Index 1
The House on Fire
---
Index 2
My Great Grandmother's Family

---
Index 3
Records of being in the Workhouse

---
Records of Irishmen in census 1851-1891 Caernarfon
---
Index 4
Census 1851
---
Index 5
Census 1861
---
Index 6
Census 1871
---
Index 7
Census 1881
---
Index 8
Census 1891
---
Index 9
Guestbook
---
*** Welcome to The Flynn Family Homepage! ***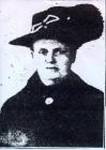 Welcome to the Flynn Family Homepage.

The picture above is my Great Grandmother who died in a fire on 4 June 1934. Her name was Jane Anne Flynn. She married an Irish man by the name of Peter Flynn. It is rumoured that he ran away from Ireland and joined the army because he thought he had killed somebody in a fight, he came from County Meath.

I found all the following information by going to the local archives.